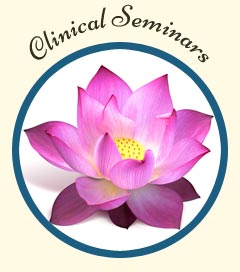 Clinical Seminars
An Introduction to Working with Dreams with Thomas J. Kapacinskas, JD, NCPsyA - Saturday, June 8, 2019, from 9 AM to Noon & 1-4PM EDT. This is a day-long seminar/workshop devoted to exploring approaches to work with dreams that may be useful for therapists, and other clinicians as well as spiritual directors and interested laypersons. Read More
Invitation to Discussion of Ervin Lazlo's Science and the Akashic Field - Saturday morning, October 22, from 9 AM to Noon. TJ Kapacinskas will lead a topical discussion of principle ideas in Lazlo's text. The "purpose" of which is a preliminary exploration of the relevance of "new paradigm" physics (NPP = new paradigm physics) for depth psychology and clinical practice. Read More
The Clinical Reading Seminar (CRS) has a clinical focus for practitioners and meets once per month early on a Friday morning to enable clinicians to participate and still have a full day of practice. Currently (2013), the CRS is reading aloud and discussing C.G. Jung's Liber Novus, aka The Red Book.

The objective of this seminar is to carefully dissect seminal texts in depth psychology, psychoanalysis, analytical psychology, and related fields. Line-by-line reading and discursive study of the author's contribution is the goal. Practicing analysts, therapists, counselors, and spiritual directors are welcome.

Recent texts have included: The Search for the Secure Base, and, Exploring In Security, both by Jeremy Holmes; and Clinical Klein, by Robert Hinshelwood. Please contact Thomas J. Kapacinskas, Phone: 574.287.0260.
Supervision Group: T.J. Kapacinskas, who has been in the private practice of Jungian Analysis (Analytical Psychology) since 1972, conducts a supervision group for area clinicians interested in deepening the nature of their current practice to make clinical practice more meaningful for both therapist & patient. The approach to supervision is based in a meta-psychology consisting of Jungian Analysis (Analytical Psychology), James Hillman's Archetypal Psychology, Attachment Theory, psychoanalytic psychotherapy, Inter-Subjectivity, Systems Theory, and British Object Relations Psychoanalysis.

Clinicians are asked to share process notes, patient dreams, and, sometimes, the clinician's own dreams. Supervision Group fees are based on a sliding scale. Please contact Thomas J. Kapacinskas, Phone: 574-287-0260.